2013: the year in review.
I will always remember 2013 as the year I fell in love with flowers.

For most of my life, I haven't appreciated flowers. Contrary to most other people I know, I've never really enjoyed the way they smelled (I can think of much sweeter smelling things), and I've never wished to receive them as a gift from a friend or significant other. I've always seen them as cliché and thoughtless and generic, and not to mention a poor excuse for an apology. I developed a particular distaste for red roses, especially on Valentines Day or an anniversary or special occasion of some sort. Again, cliché to say the least.

There's a little field right near my house; I pass it on the way home and walk my dog by it every day. I've shot there several times, and usually it's flat and barren. But sometimes the grass grows tall and rampant; it grows long in some places and stays short in others. One day late last year, in the middle of winter (if you can even call it that in Miami), I was walking my dog and stopped to admire the sun setting on the field horizon. It was cool and windy, the reeds were tall and they danced gracefully to the music of the breeze, moving in unison, as if choreographed. While admiring the purples and yellow hues of the clouds, a pop of white caught the corner of my eye. It was a lone wildflower, growing in the middle of a sea of browns and greens and yellows. It being top heavy, a bulb of petals supported by a flimsy stem, it didn't sway as effortlessly as the blades of grass around it, but rather bobbed clumsily, knocking into its neighbors. I couldn't help but think how beautiful it looked, the one dissenting image in an entire field of lookalikes. It stood strong although I knew it to be far more fragile than the resilient grasses. I was tempted to pick it, but didn't knowing it would wither within hours. I wanted to pick it anyway. Why do we choose to pick flowers instead of grass, knowing they are far more delicate and will die infinitely faster? Because they are beautiful. Because they are different. Because they remind us that life is short and moments are fleeting and we must enjoy them while they last.

I didn't pick it. I decided to leave it there to decorate the field with it's presence. The next day, there were about 20 white flowers scattered around the field, all bobbing clumsily to their own unheard rhythms. No two were alike.

I fell in love with wildflowers. The way they are all different. The way there is no real rhyme or reason to the way they grow. The way they dance clumsily amongst their uniform counterparts. The way they are here one day and gone the next. They are fragile, and awkward, and magnificent, and free, and they remind me of everything I stand for. They remind me of why I am alive. I am not a rose. I am not your traditional prized beauty, seducing you with my luxurious scent only to pierce you with my thorns. No, I am a wildflower; with a bulb full of dreams and a fragile stem, and petals that dance clumsily in the wild to the beat of my own drum. A proud, dissenting voice in a sea of followers. Standing firm against all odds. Here one day and gone the next, but spreading beauty around me wherever I blossom.

I started an inspiration blog on tumblr, and named it Dreams of Wildflowers.
In January, I held my second annual Boudoir Marathon, which was quite successful! We shot 5 lovely beauties in one day, with the help of the original glam squad Joann Wiltshire & Jessica Marie, and my photographer friend Francy Nunez who shot one of her own clients, who's wedding I got to second shoot later that year!. Rather than setting it at a traditional hotel, fueled by my newfound fascination with flowers, I opted for a loft set in a beautiful tropical garden, full of nooks and crannies and lovely bougainvilleas everywhere! The result was a beautiful, romantic, serene environment which began my journey into defining my photographic style.
Here are a few favorites:
The very next day, having rented a gorgeous location for the weekend and no one to shoot, I put out a casting call on facebook to see if any models were available and wanted to hang out and shoot. A response came from a pretty young blonde named Jennifer Ross. I gave her my number and she called me for directions, and within the brief 5-minute interchange, I could already tell she was awesome. "We are gonna be great friends," she said to me, without ever having met me. "I think so too."
We didn't know how right we were.
My photographer friend Sofia came by as did Eli Llerena (another facebook friend I had been dying to meet in person) and we put on makeup, drank wine, booty danced (well, I did), played dress up in pretty clothes and lingerie and flower crowns, and we shot all day and stayed up all night. They nicknamed me a "tornado of awesome" which I thought was pretty cool. We took polaroids and ordered pizza and had a pretty awesome picture party. It was one of my favorite experiences of the entire year.
This year I also finally got to collaborate with an up and coming designer I had been DYING to work with for years now, By Misha. I first found Misha when she had one one collection and less than 50 likes on her facebook page. One look at her designs and I fell in love instantly. It was glamorous and romantic, free-spirited yet put together, couture but down to earth. Late last year we finally sat down to have lunch (and cupcakes!) and planned out our first collaboration. She wanted me to shoot an editorial campaign for her AW13 collection, "Letterbox." The result was nothing short of EPIC. Absolutely nothing went right during the shoot, and yet it was still the best working experience I had ever had up to date. We just clicked. Anyone who knows me knows I dread photo selections with every fiber of my being, and yet culling with Misha was the easiest, most seamless process I had ever undergone. We agreed on EVERY. SINGLE. ONE. Our aesthetics are so alike that we just say one word and the rest is understood. She gets me. I get her. And the result is pure magic. For my shoot with Misha, I contacted agencies to get models. It was my first time doing this and it was the scariest thing ever. I was half sure they were just going to be like, No. (Insert grumpy cat face here.) Instead they sent me not one but TWO girls! I may or may not have done a little happy dance in my room. One of these girls was Effy Harvard, who became my muse for the year. She went on to win the GUESS Girl Model Seach, and became the newest face of GUESS! GUESS did a write up on her, and included a few pictures I had taken of Effy at the By Misha shoot!

You can check those out here.
Our team for the By Misha shoot was nothing short of spectacular. We dubbed ourselves the Dream Team. In addition to Misha, I got to *finally* meet and work with two girls who's talent and work ethic I absolutely admire, Nina Arce of Nina's Makeup and Olivia Smalley of OMG! Artistry. Both are on their way to building their respective empires and I am so happy and blessed to be part of them.
Here are some of my favorite images we created together: (Note the recurrence of flowers.)
Misha, Olivia and I worked so well together that we worked together again in September for Misha's SS14 capsule collection, this time with the doe-eyed new face Melanie Smith, which might just be the sweetest girl I have ever met! I couldn't believe this was only her second shoot; this girl was born to model. I told her she was going to be a superstar. A few short months later and she is now represented by like 4 agencies around the country, and internationally as well. I am so proud of her!
2012 was a busy year. At the start of 2013, I was extremely backlogged from work from the previous year, and so I decided to take 2013 easy, catch up and edit. Besides my boudoir marathon, I didn't actively promote or contact anyone to shoot. In spite of this, a there were few times where opportunities to shoot some pretty amazing girls quite literally landed in my lap. They were in town and wanted to shoot with me, and umm, I felt honored to say the least. They're pretty damn awesome. I shot with Mikaela Schipani, Muriel Villera, Effy Harvard (again), Jennifer Marie, Marissa Nguyen, and Remington Jones. Each one of the shoots was completely spur of the moment, unplanned, and unpredictable, but we just went with it. I'd like to say that I made pretty great friends in the process of shooting these girls, and hope to work with them all again. :) I also took on a very select number of new clients (3 to be exact), because I wanted to focus on editing and promoting my fashion work. (Kiara, Karina, & Alesia, you guys are awesome.)

You would think it was a slow year. But nope. Sometime around May, on photographer friend Jason Bassett's recommendation, I applied and was selected to be one of the Miami artists to showcase at RAW Artists's Kaleidoscope Gallery Event at LMNT in Wynwood. I was thrilled to say the least, and ridiculously afraid. I had no idea what I was getting myself into. I had to go through every image I had ever shot and select a handful to represent me. I had to print and mount them. (I chose to print my images on metal, and I didn't have enough money for this, so I held a giveaway contest and raised $950) I had to name them. I had to price them. I had to figure out how to arrange them. I had to put them up, and talk about them. I needed to come up with an artist statement. I had to sell tickets to the event. I had to design and order business cards. I was interviewed, on camera, then on stage. In front of hundreds of people. These things might not seem that difficult to a seasoned gallery artist, but for me, this gallery undertaking was one of the most difficult things I have ever done. I dare say, more difficult than 4 years of undergrad at UM. And that was no walk in the park, either.
The result was astounding. I got such incredible feedback. I was the highest ticket seller of the night. People came up to me and told me that I was their favorite artist of the entire event. Other artists told me that I was their favorite artist of the event. I tried desperately to talk to as many people as I could but it was so overwhelming, I didn't get to say more than "Hi, thank you for coming." to at least half of them. To my surprise, in the weeks after my gallery, I was featured on numerous blogs. It's crazy to think that at first I almost didn't apply, because I thought that my work wasn't "artsy" enough for the fine art world, and here people were being blown away by my pictures. That just goes to show you that if you never try, you'll never know.
I guess they liked me, because I was invited back to showcase a second time in October. I did. After that I got selected as director's pick, and nominated for RAW Awards Photographer of the year. Everyone voted, and I was selected as top 5! I ended up getting second place, not bad for something I entered on a whim!
In June I had a vision and dreamed up this gorgeous shoot with roses everywhere. I teamed up with an AMAZING group of people, including designer Yvette Elfawal, stylist Edyna Garcia, makeup artist Toshi Szpyra, Hairstylist Sasha Bell, model Jenn Ross, and Nery's flowers. We planned for weeks and my vision was brought to life and published in Elegant Magazine!
Another of my favorite collaborations was working with Mikaela Schipani of America's Next Top Model! She was so sweet, funny, and down to earth. I made her climb into the weirdest places for shots and she was such a trooper and down for whatever!
And last but not least I did an impromptu boudoir/lifestyle shoot with Effy that became one of my instant favorite shoots of all time and cemented her as my muse.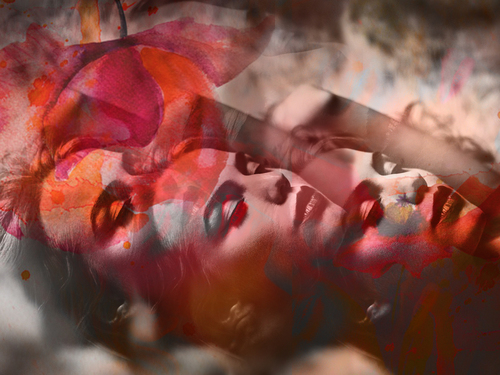 It always comes back to flowers. :)

Overall this year was filled with such incredible new experiences! Plenty more await me in the new year, I can't wait to see what 2014 has to bring!